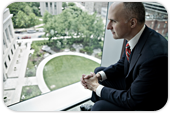 An interesting article by Aaron Renn about Chicago. He contends that Chicago's lagging economy is due to clout. I think he is correct. Quotes:
"It described the sad reality of how Chicago's economy is in the tank, and has been underperforming the nation for the last few years."
"The region also has lagged in innovation, firm creation and growth in productivity and gross metropolitan product over the past decade, according to economic development consultant Robert Weissbourd, president of RW Ventures LLC. "
"Believe it or not, a lot of it goes back to that bane of Chicago politics: Clout. People in Chicago tend to write off clout and political corruption in Chicago with a shrug, as a unique or even amusing local affectation, or just part of the character of purely political life of the city, but one that doesn't fundamentally change its status as the "City That Works." But nothing could be further from the truth. Chicago's culture of clout is a key, perhaps the key, factor holding the city back economically."
Read the article at:
http://www.urbanophile.com/2011/01/16/chicago-the-cost-of-clout/
http://www.urbanophile.com/